Arturia KORG MS-20 V v1.1.1 Update [WiN]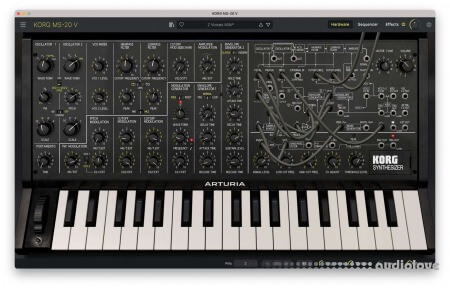 Team R2R | 26 December 2022 | 11.1 MB
Primal black monolith
KORG MS-20 V is a virtual instrument for sound explorers in search of the meaner side of analog. From punchy analog textures to abrasive screaming sounds, explore a flawless emulation of a primal instrument overflowing with attitude and streamlined for modern production.
The analog elemental
KORG MS-20 V unites screaming oscillators and filters with a semi-modular architecture and cutting-edge upgrades for a monstrous virtual instrument that transcends subtractive synthesis.
Explore the darker side of analog and effortlessly immerse your mix in the unearthly sounds of a machine that takes no prisoners - shuddering detuned basslines, snappy resonant thuds, and howling hard-sync melodies await.
Main Features
Virtual Instruments playable in a DAW (Live, FL Studio, Logic,...) or standalone with a MIDI keyboard.
Software emulation of original MS-20 designed in partnership with KORG
Dual VCOs with Noise, PWM, Ring Mod, Hard-Sync, and Frequency Modulation
High-pass and Low-pass filters modeled on KORG IC-35 and OTA chips
Modulation Generator LFO with morphing waveforms
Dual Envelope Generators with Looping/Snappy modes
External Signal Processor module with Envelope Follower and sidechaining
Patch Bay for semi-modular signal customization
Built-in 3-channel 12-step sequencer based on KORG SQ-10
16 FX across 4 slots, configurable in series or parallel
Expanded 6-voice polyphony with Unison mode
MTS-ESP microtuning compatibility
MPE compatibility
A witch says,
This update can be applied to
Arturia.V.Collection.9.v9.4.0-R2R
百度云下载地址: