Muze Effects [KONTAKT]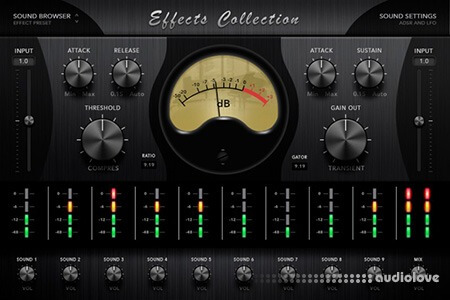 P2P | 20 March 2020 | 4.54 GB
广泛收集独特的效果,纹理和效果
主界面
您总共有1080种源声音可以探索,变换,组合和创建自己的声音。
-包括通过数字效果处理的空间声音,纹理和打击效果
-压缩器控件:起音,释放阈值,比率,输入级别
-瞬态控制:起音,维持,输出增益,输入电平
浏览器
声音浏览器和9通道混音器,用于更改每个声源上的声音和fx设置。
-每个通道的音量控制,声相,静音和独奏
-简单选择声源并进行混音以获得新声源
-每个通道的信封和LFO设置
效果
乐器主要效果:延迟,合唱算法混响,移相器,增益器和镶边。
-混响控制:预延迟,(模拟房间的)大小,颜色,立体声和阻尼
-延迟控制:时间,阻尼,声像反馈和增益
-合唱控制:深度,相位,速度和增益
-移相器控制:深度,速度,相位,反馈和增益
-镶边控制:速度,相位,深度,反馈,颜色和增益
特征
-5,32 GB(无损压缩)库大小,1080个样本
-20种内置效果:压缩器,延迟器,混响,限制器,移相器,增益器,镶边,瞬变主控,合唱,失真,低保真,3和4频段EQ等
-设置中的全套效果可进行全面自定义
-7种预设(Nki文件):纹理,空间和命中声音
-强大的分层引擎
-声音浏览器和Fx
-使用模拟和数字设备采样。
Kontakt引擎功能
-自定义用户界面
-压缩的24Bit / 48KHz样本
-每个通道的微调四频段均衡器
-灵活的用户界面,可让您控制声音和fx的各个方面(分层,变形,将各种声音相互融合)
-每个预设都有9个通道(与调音台混合),能够同时混合2到162种声音
-具有超过1080种声音的内置音源菜单
来源
-包括594个纹理和586个匹配
-电影和电子音乐的1080声音
-9个具有独立声音的通道
质量
-24BIT / 48KHZ质量
-超过5,32 GB的内容
-用模拟齿轮记录
需要NI Kontakt 5.6及更高版本的完整版本!
AN EXTENSIVE COLLECTION OF UNIQUE EFFECTS, TEXTURES AND HITS
MAIN INTERFACE
You have a total of 1080 source sounds to explore, transform, combine, and create your own.
– Includes sounds of space, textures & hits processed on digital effects
– Compressor controls: attack, release threshold, ratio, input level
– Transient control: attack, sustain, output gain, input level
BROWSER
Sound Browser and 9 channel Mixer for changing sound and fx settings on each sound source.
– Volume control, pan, mute & solo of each channel
– Simple selection of sound sources and mixing to get new ones
– Envelope and LFO settings for each channel
EFFECTS
Instrument Main Effects: delay, chorus algorithmic reverb, phaser, gainer and flanger.
– Reverb controls: predelay, size (of the simulated room), colour, stereo and damping
– Delay controls: time, damping, pan feedback and gain
– Chorus control: depth, phase, speed and gain
– Phaser controls: depth, speed, phase, feedback & gain
– Flanger control: speed, phase, depth, feedback, color and gain
Features
– 5,32 GB (Lossless compression) library size, 1080 samples
– 20 Built-in Effects: Compressor, Delays, Reverb, Limiter, Phaser, Gainer, Flanger, Transient Master, Chorus, Distortion, Lo-Fi, 3 and 4-Band EQ & more
– Full set of effects in the settings for total customization
– 7 Presets (Nki files): Textures, Spaces, and Hits sounds
– Powerful Layering Engine with
– Sound Browser and Fx
– Sampled with Analog & Digital equipment.
Kontakt engine features
– Custom User Inteface
– Compressed 24Bit / 48KHz Samples
– Fine-tuned four-band EQ for each channel
– A flexible user interface that allows you to control all aspects of the sound and fx (layering, morphing, blending all kinds of sounds with each other)
– Each preset has 9 channels (mixing with mixer) with the ability to mix from 2 to 162 sounds simultaneously
– Built-In Sources menu with more than 1080 Sounds
SOURCES
– Includes 594 Textures and 586 Hits
– 1080 Sounds For Film & Electronic Music
– 9 Channels With Individual Sounds
QUALITY
– 24BIT / 48KHZ Quality
– Over 5,32 GB Content
– Recorded With Analog Gear
Required FULL version of NI Kontakt 5.6 and higher!
百度云下载地址: