Modartt Pianoteq Pro Portable v6.7.0 [WiN]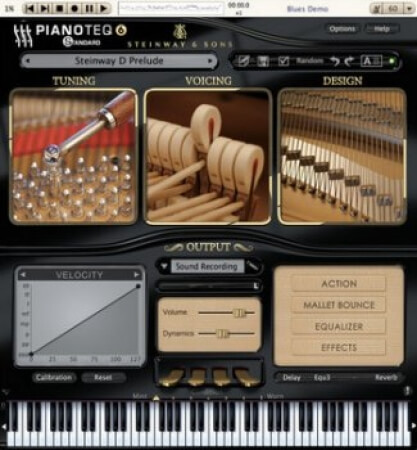 P2P | 23 May 2020 | STANDALONE/VSTi/AAX x86 x64 | 125.35 MB
Pianoteq PRO is the ultimate product for professional composers and recording studios, and has proved to be an indispensable tool in many recording projects - from movie soundtracks and tv commercials to the latest hit songs.
By being physically modelled, Pianoteq PRO brings you an extremely sophisticated tool for sound shaping and instrument creation, letting you create your own unique sounds that will enrich your projects. The PRO version works with internal sample rates up to 192 Khz. By using its powerful Note Edit feature, you are able to adjust physical parameters for specific ranges, and even note by note. You can also turn any Pianoteq instrument into a multi-instrument by using advanced keyboard splits for up to 105 notes (concerns instruments with extended octave range).
Note editor
The note editor is designed so that you can work with it effectively - it saves you time and increases your creativity. On top of this, its spectrum profile editor lets you adjust each overtone for each note, bringing you thousands of sound combinations that will help you finding your own unique instrument.
You can also benefit from this special bundle: Pianoteq PRO 6 including all current instrument packs:
Karsten collection
Steinway Model D
Steinway Model B
C. Bechstein Digital Grand
Ant. Petrof 275
Steingraeber E-272
Grotrian Concert Royal
Blüthner Model 1
U4 upright piano
K2 grand piano
YC5 rock piano
Harpsichord
Kremsegg 1: Historical pianos
Kremsegg 2: Historical pianos
Hohner Collection
Electric pianos
Steelpans instruments
Vibraphones
Celeste: Glockenspiel + Celesta + Toy Piano + Kalimba
Xylo: Marimba bass + Xylophone
Harp
How to add Pianoteq Portable to VST-host (DAW)
Open the DAW settings and add the PianoteqPortable \ x64 \ VST \ folder (or PianoteqPortable \ x86 \ VST \ if the DAW does not support 64-bit plugins) as an additional plugin scan folder. For details, refer to the manual (manual) of your DAW.
百度云下载地址: