Truefire Joe Robinson Electric Synergy [TUTORiAL]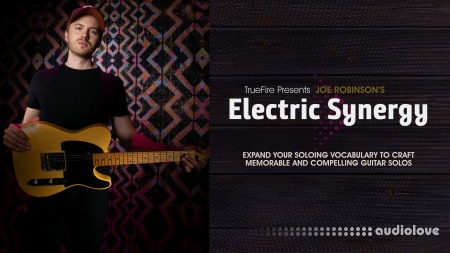 P2P | 04 October 2020 | 5.15 GB
Expand Your Soloing Vocabulary to Craft Memorable and Compelling Guitar Solos
Every player strives to express themselves more articulately and more creatively and we all work hard to expand our soloing vocabulary so that we're able to craft memorable and compelling solos on the fly.
Joe Robinson's Electric Synergy reveals 10 key concepts, techniques, and tools of expression that will dramatically enhance your creative approach when soloing and improvising on electric guitar.
"My hope is that you'll also be able to put these tools to work creatively so that you can express on the fretboard what you hear in your head and in your soul.
I'll share my approaches for double stops, flat-picking, staccato phrasing, and expressive bends. We'll also work on vibrato, target notes, arpeggios, staccato phrasing, finger-picked lines, playing the changes, dynamic expression, and other key techniques and approaches.
We'll then apply these 10 key concepts and approaches over 10 soloing performance studies, which we'll perform over a variety of studio-quality backing tracks covering a range of feels, tempos, and keys."
Joe will first demonstrate and drill down on a particular technique or approach and then guide you through a performance study application of the approach followed by a detailed breakdown of the study.
You'll improvise over contemporary arrangements of tunes like Amazing Grace, Wayfaring Stranger, Nevada Train, Danny Boy, Avalon, Gold & Black, Limehouse Blues and other staples of the American songbook.
Includes
32 Video Lessons
18 Charts (.pdf)
10 Jam Tracks (.mp3)
18 Tabs (.gp5 or .ptb)
百度云下载地址:
链接: https://pan.baidu.com/s/1gH_xV8ex6o-6nRBd9t9e_A 提取码: f6jd