The Unfinished Zebra Nordsund: Blood Dark Edition [Synth Presets]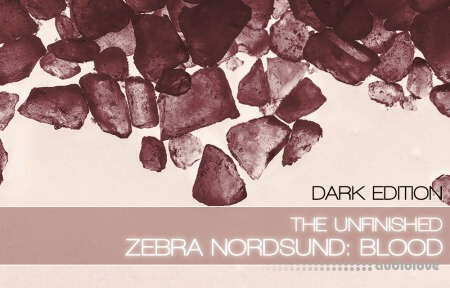 Team DECiBEL | 21 December 2020 | 3.8 MB
Zebra Nordsund: Blood [Dark Edition] is a collection of 300 patches for u-he Zebra2 and ZebraHZ.
Nordsund is designed to capture the atmosphere and the darkness of Nordic Noir. The patches were created during bespoke sound design sessions I was doing for the fourth season of Swedish/Danish detective drama, The Bridge.
Brooding detectives, cold nights, complex murders, achingly beautiful scenery and sophisticated urban design: Nordsund reflects the sonic landscape of one of the most cutting edge and thrilling European TV series.
Grinding basses, industrial textures, silky pads, unstable sequences, tense percussion; Nordsund blends uneasy, moody analogue with dark, taut organic vibes for an authentic slice of melancholy Scandinavian tones.
There are a number of time signatures represented in the basslines, synth sequences and drumloops to allow you to build up suspenseful, syncopated tracks. Plus, as always, care has been taken to provide extra dynamic tonal control via the modwheel and the X/Y pads.
Developed in conjunction with critically acclaimed composers, Uno Helmersson and Patrik Andren, Nordsund provides an essential palette for discovering that Nordic vibe.
Nordsund is split into two collections: Blood and Gold. Blood is aimed at darker, more experimental, boundary pushing patches, with a more atonal, ominous feel. The Dark Edition takes the original Blood patches and modifies and optimises them for ZebraHZ to create a new collection of even darker, more obscure and tantalising noises.
百度云下载地址: