Solemn Tones Kraken Hybrid Bass [WiN, MacOSX]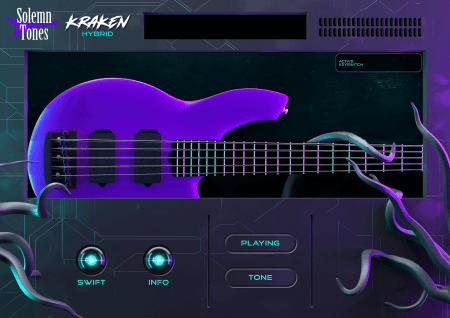 Team DECiBEL | 21 December 2020 | AAX AU VST3 VST | 2.93 GB each
Kraken Hybrid bass is the next level in midi bass samplers. Whether you're replacing recorded bass or programming your bass tracks from scratch, Kraken will be the ultimate tool to create the foundation of your mix.
- Sampled with a Musicman Bongo 5 HH Bass
- Tracked through a world-class recording chain
- Includes Clean DI and 5 mix-ready tones
- No Kontakt or 3rd party sampler required
- Access 20 different articulations including slap
FEATURES:
- Recorded with an Ernie Ball Musicman Bongo 5 HH Bass
- Comes with 5 pre-processed tones created with Darkglass B7K, Ampeg SVX, Fabfilter Saturn, Pod Farm & Bassforge Hellraiser for a variety of tonal options.
(Clean DI also available to create your own tones)
- Available articulations include: down picking, up picking, alternative picking, dead mute notes, harmonics, SLAPS, slides, bends, open plucks, dead plucks, left-handed mutes, slides from-and-to specific notes & more
- Enforce Mode replaces the sub-bass information of your track with a clean sine wave for extra consistent low-end.
- Human Error menu allows you to add extra realistic elements to your bass line.
COMPATIBILITY:
- Requires a 64 bit digital audio workstation (DAW) that supports VST2, VST3, AU or AAX plugins.
- Requires Mac OS 10.9 or higher / Requires Windows 7 or higher.
- Requires 4GB of available disk space.
- Requires 2GB of available RAM (we suggest having 8GB of RAM or more installed, when working with a DAW and other plugins).
百度云下载地址: