Softube Statement Lead v2.5.9 FiXED [WiN]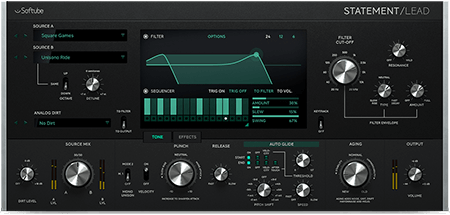 Team R2R | 01 January 2021 | 3.42 GB
Statement Lead instrument is a five-octave polyphonic synth plug-in for lead sounds with 90 waveforms recorded from a variety of rare, expensive hardware synths and built-in Softube effects to give you precise control over your sound.
Modular Ready
The Source, Filter, and FX sections of Statement Lead are included as modules for Modular, for when you want a section of a synth to be able to combine with something else. It's easy to use and combine single parts of the synthesizer in a modular workflow to build patches and get an authentic polyphonic synth sound. This really opens up possibilities for innovative sound creation. Learn more about the individual modules below.
Team R2R Note: (v2.5.9 FiXED)

FiXED :
"Statement Lead Effects.ssx" was not patched as expected, it sometime tries
to open iLok service and shows error if your computer does not have iLok
Licenser Manager installed. It does not affect the function but we care 🙂
HAPPY NEW YEAR!
* No iLok Driver is required to run.
* Our release loads faster and uses less memory than original.
百度云下载地址: