Sampleson Suit73 v1.4.1 RETAiL [WiN, MacOSX]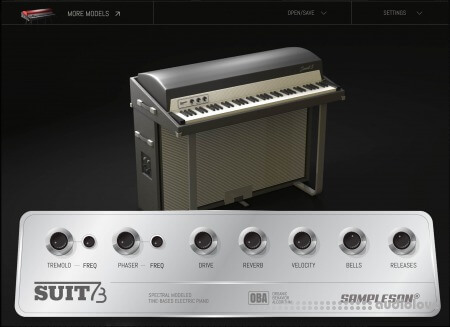 Team Flare | 29 December 2020 | MERRY XMAS | WiN: 34.7 MB | MAC: 30.7 MB
SUIT73: 35MB SUITCASE ELECTRIC PIANO THAT SOUNDS LIKE 8GB.
We've extracted the Suitcase 73's DNA and packed it into a 35MB virtual instrument.
Suit73 is the most detailed emulation we've created so far. Presenting the second generation of our spectral modeling engine (DNAudio 2.0) allowing us to create realistic and warm emulations.
HYPER-DETAILED SPECTRAL MODELED SUITCASE ELECTRIC PIANO
Suit73 was made upon spectral modeling. A technique providing realistic sounds since it's based on real samples and not mathematical approaches like physical modeling.
It sounds real because it is real: sound is created the same way it's in nature (stacking simple sinewaves together). This is why it feels organic and warm.
We've mapped more than 64 groups of timbre components (releases, bells, key noises, main timbre, resonance, etc) and recreated them by spectral modeling. Archiving a realistic and warm sound in just 35MB and very low CPU usage.
WHAT EXACTLY IS SPECTRAL MODELING?
Every sound in nature can be decomposed into simple sine waves. From a bird tweet to a trumpet note. Spectral modeling is the process of analyzing and creating a sound by stacking simple sine waves.
According to Julius O. Smith (Standford) Spectral modeling provides a sound representation much closer to the perception of sound by the brain because your ear and brain are in fact spectral decoders.
PRODUCT DETAILS
· Spectral modeled 73-key Suitcase Electric Piano.
· Based on real samples.
· Just 35MB.
· No velocity-switching.
· Drive FX.
· Phaser w/intensity and frequency FX.
· Tremolo w/intensity and frequency FX.
· Reverb FX.
· Scalable HD interface.
· MacOS Catalina Ready.
· Easy install.
· No extra purchases needed (like Kontakt, UVI, etc) or any other 3rd.
party player.
· Ready to be loaded into major DAWs (Cubase, Logic Pro, GarageBand, Cakewalk,
Reaper, BitWig, Nuendo, FL Studio etc)
· Win 32/64 bits and Mac VST/AU/Standalone versions included
百度云下载地址: