Native Instruments Guitar Rig 6 Pro v6.1.1 CE [WiN]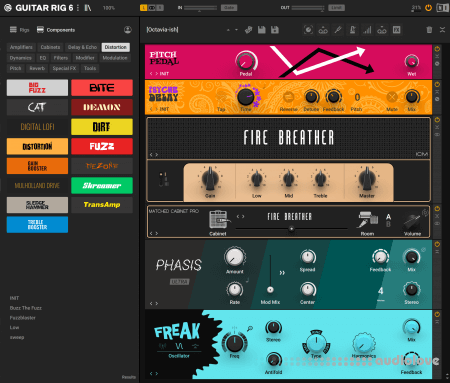 Team V.R | 20 October 2020 | 339 MB
Back with a new look, new amps, new effects, and new machine learning technology to model state-of-the-art hardware. Unlimited amounts of warmth, grit, crunch and fuzz, plus all the effects you could ever need.NEW AMPS AND EFFECTS
Three newly modeled boutique and vintage amps. We've also added 16 new effects from Native and Softube for new ways to define your tone.REBUILT INTERFACE
GUITAR RIG 6 PRO comes with a fresh look. The new scalable interface is clean and easy to use, making creativity with audio processing even more intuitive.HELP DECIDE WHAT COMES NEXT
Our new way of modeling hardware gear means we can more easily add the types of amps and effects that our community wants, and everybody's welcome to pitch in.THE CREATIVE GUITAR SOLUTION
GUITAR RIG 6 PRO is a multi-effects rack and amp simulator made for creating and experimenting with audio in a way that is fast and direct. Think of it as your own studio, only with more space, less heavy amp heads, and way more flexibility. Design unique processing chains to customise your tones, adding space, warmth and character to everything from guitar and bass, to strings, drums, synths and more.NEW AMPS, NEW TECHNOLOGY
INTELLIGENT CIRCUIT MODELING
Sci-fi by name, but incredibly realistic by nature. Native's newly developed circuit modeling process uses cutting-edge machine learning technology to reproduce the behavior of hardware devices from the ground up, giving a whole new level of depth and realism to our amp emulations. Even better, it means we'll be working with the community to discover new hardware and bring it to GUITAR RIG 6 PRO with regular updates.
CHICAGO
A classic, rare mid-50s combo amp with simple gain and tone controls, but with a wealth of character, and highly responsive to picking dynamics. Turn it all the way up for tube-driven, saturated glory.
BASS INVADER
A punchy, vintage solid state bass amp that's as solid as a rock. With a 4-band active EQ, voicing filters, and distortion control that sits as sweet in contemporary rock settings as it did 30 years ago.
FIRE BREATHER
Capturing a hand-wired American boutique amp that was originally modded from a British classic, this versatile coming-together of high-gain goodness can do everything from modern metal tones to amazing clean sounds.
MATCHED CABINET PRO
New and improved cabinet sound for all amps in GUITAR RIG 6 PRO with state-of-the-art impulse responses from OwnHammer and 3 Sigma Audio.
EFFECTS ACROSS THE BOARD
Effects are overhauled in GUITAR RIG 6 PRO, with an impressive array of new inclusions from our roster. Distortion, saturation, compression, modulation, reverb and more – load them in your rig and combine them however you want to create your own custom sound.
百度云下载地址: