Music: The Definitive Visual History, 2nd Edition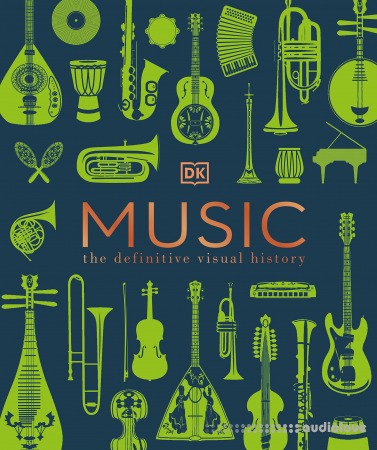 English | 26 July 2022 | ISBN: 0744058341 | True EPUB | 480 pages | 224 MB
A complete and harmonious history of music, from prehistory to the present day!
Have you ever wondered how blues influenced rock music? Or why jazz took a more Latin-American approach? Classical or rock, everyone has their favorite music style, but how did your top choice come about? If you find yourself asking these musical questions and more, then this may be the book for you!
Music is a compelling and richly illustrated history of the most unifying art form in the world. Explore the roots of all genres from chants of the middle ages through the grandeur of the classical period to the modern rhythm of blues, jazz, hip-hop, and pop. Music includes illustrated histories of instruments and listening suggestions for each musical genre. Spectacular galleries display families of instruments from around the world, while special features showcase the evolution of key instruments, such as the piano and the guitar, and profile iconic innovators such as Billie Holiday, David Bowie, and Mozart. Charting every musical revolution, from bone flutes to electronica and from jazz to hip-hop, this visually stunning history of music will hit the right note, whether you are into pop or rock, or disco or rap, classical or opera.
Explore the magical world of music as you've never known it before, and discover
- Revolutionary musical developments outlined step by step
- Biographies profiling the lives and works of groundbreaking musicians
- Collection spreads feature families of instruments, such as the gamelan
- "Story of" spreads chart the evolution of individual instruments
- Key Works boxes provide listening suggestions for different music styles
- Illustrated glossary clearly explains musical terminology and genres
This magnificent book about music charts and explains the entire global history of music, whether it's music in the Middle Ages, to the Sounds of Soul, music in the Romance period to the Renaissance and so much more. This new edition of Music has been updated with the latest facts and information, including the latest on streaming music, with specially-commissioned photography including a Stradivarius guitar, the earliest cello known to survive and a guitar used personally by Bob Dylan!
A must-have volume for musicians, music students or simply those wanting to learn about the history of their favorite music genre or their chosen instrument, Music is sure to delight!
百度云下载地址: