How to Play Jazz Guitar in 14 Days: Daily Lessons for Learning Rhythm & Lead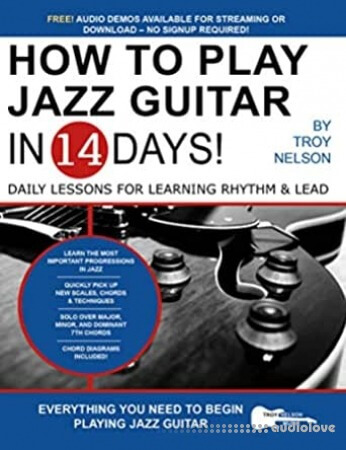 English | 2020 | ISBN-13 : 978-1674965840 | 77 Pages | PDF, AZW3 | 9 MB
Connect & Combine Pentatonic Scales Across the Guitar Fretboard in 14 Days! will teach you the 5 box patterns and 2 horizontal patterns of the major pentatonic, minor pentatonic, and blues scales. You'll also learn how to connect scale patterns, combine different scale types, and play dozens of licks and entire solos.
Inside this book, you'll find guitar lessons jam-packed with guitar tab and instruction on:
5 major pentatonic patterns
5 minor pentatonic patterns
5 blues scale patterns
2 horizontal patterns for all scales
Connecting patterns
Combining different scale types
Complete Solos (blues and country) & dozens of licks
Ready to learn pentatonic scale fluency? This essential guide will have you soloing all over the neck, joining scales and notes all over the guitar's fretboard.
This guitar educational instructional book includes:
150 plus free audio demo jam tracks
Scales are in A Major and A Minor
Easy-to-read diagrams and tab exercises
Guitar licks to get you sounding great right away
All music examples are presented in easy-to-follow tab so, as new concepts are introduced, you'll be able to quickly apply them to your guitar.
For the intermediate or advanced guitarists.
Every Troy Nelson Music book includes free audio companion tracks that are easily downloaded or streamed right from troynelsonmusic.com
From the author of over 20 guitar lesson books
Connect & Combine Pentatonic Scales Across the Guitar Fretboard in 14 Days!" is written how Troy would want to learn connecting pentatonic scales if he was starting from scratch, in his signature, tried-and-true, sound-great-right-away style. Troy has written more than 20 books for the guitar and edited more than 100 others.
Thanks for the 5-star reviews
As an author, Troy Nelson has sold over 250,000 books and received more than a 1,000 reviews. A 30-year guitar player, he's the former editor-in-chief of Guitar One magazine, holds a degree in Applied Music Theory, and is the author of the #1 best-seller Guitar Aerobics.
Buy now and get the ultimate guide to connecting major and minor pentatonic patterns!
百度云下载地址:
链接: https://pan.baidu.com/s/1frYb_jqZGBk82yYBNxDbMQ 提取码: b495