Groove3 iZotope Neoverb Explained [TUTORiAL]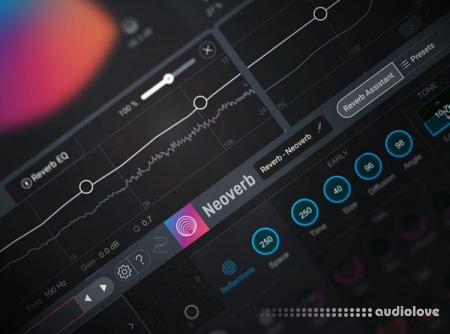 SYNTHiC4TE | 02 October 2020 | 91 MB
Eli Krantzberg delivers in-depth iZotope Neoverb video tutorials! Learn all about iZotope's new reverb plug-in that combines up to three Exponential Audio based reverb signals into a new streamlined and intuitive interface. Master all of its features and functions as well as how to use it on your tracks. These videos are designed for new iZotope Neoverb users.
Eli greets you and starts with a thorough overview of the Neoverb user interface and how everything is laid out. Then you'll see how Reverb Assistant automatically calculates optimal settings for each of the three reverb engines based on your aesthetic choices, and how the audio is analyzed in real-time for both pre and post reverb EQ. Eli goes further and demonstrates how to setup Neoverb manually and create a beautiful, natural sounding drum room ambiance.
Throughout the rest of the videos Eli explains and explores the other settings available and how they affect your sound, such as Time, Size, Space, Reflections, Diffusion, Attack, Crossover and Damping. You'll also learn about the powerful Unmasking feature which allows Neoverb to communicate with other iZotope plug-ins to detect troublesome frequency buildups that may occur, and remove them using its built-in post EQ.
To see what these detailed iZotope Neoverb tutorials show you, and how they'll get you using it with amazing results on your tracks and productions, check out the individual Neoverb video tutorial descriptions on this page. See if Neoverb is truly the last reverb you'll ever need... Watch "iZotope Neoverb Explained®" today.
百度云下载地址:
链接: https://pan.baidu.com/s/1qUBJhNwkqzarE7JndWaxNQ 提取码: 2tms