Exponential Audio PhoenixVerb Surround v4.0.1a [WiN]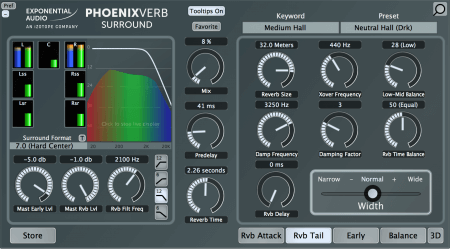 Team R2R | 01 January 2021 | 15.2 MB
PhoenixVerb Surround delivers the signature transparent reflections of PhoenixVerb, now with multichannel support up to 7.1. From mixing dialogue and music to placing foley and sound effects, PhoenixVerb Surround's comprehensive interface and advanced surround controls make it the perfect tool for any audio post job.
More channels, fewer limits
Just as the stereo version of PhoenixVerb has cemented its place in the workflow of music producers everywhere, PhoenixVerb Surround has earned the same indispensability in post production workstations the world over. Multichannel support through 7.1 surround makes PhoenixVerb Surround the ideal post production tool for introducing natural, authentic reflections to bring depth and realism during ADR work or foley mixing.
Up to 7.1 surround support
Add the signature depth and clarity of PhoenixVerb to your mix in any surround post production setting up to 7.1. In addition, PhoenixVerb Surround's 3D connectivity allows you to link multiple instances for even more complex multichannel work.
Natural, transparent reverb engine
Whether it's ambience matching for a low-budget indie film or orchestral mixing for a high-profile post production job, the PhoenixVerb algorithm delivers authentic, realistic room reflections, perfect for any post production work.
Advanced versatility and precision
The most useful audio tools provide an appropriate balance of technical power, flexibility, and ease of use. PhoenixVerb Surround delivers on these fronts with over 900 presets and filtering, delay, and gain controls to shape your reverb perfectly for your mix.
Key Features
Natural reverb algorithm
Surround support up to 7.1
Advanced control of reverb tail and early reflections
Additional delays and gain controls to work in complex multichannel mixes
3D controls link multiple plug-in instances
Over 900 presets (rooms, plates, halls, chambers, and more)
EuControl support
Team R2R Note: (v4.0.1a)
HAPPY NEW YEAR!
* No iLok Driver is required to run.
* Our release loads faster and uses less memory than original.
百度云下载地址: