Noiselash Automatic Fans Get Automatic Spotify Fans [TUTORiAL]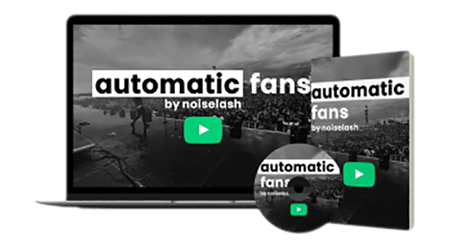 P2P | 03 April 2020 | 382 MB
The New Music Marketing Blueprint To Generate Streams And New Fans On Autopilot, Every Single Day
Learn how to put in place your 'automatic fans machine' that generates new fans and streams everyday (even while you sleep) without a huge budget or support from a record label
What is ''Automatic Fans''?
Automatic Fans is a counterintuitive approach to music marketing, specifically built for independent musicians.
It allows you to build a sustainable and predictable machine that generates new fans, streams and build your brand without the need for playlist placements or a huge record deal.
We achieve this by creating a "fan machine" that works for you 24/7, where your only job is to create music and maintain the relationship with your new fans.
And as result, it allows you to grow your career and monetize your music with an ever increasing number of streams and fans!
Here are a few of the strategies and secrets you will get
The Business Ad Manager Ultimate Guide
The most powerful advertising tool at your disposal right now. With our guide specifically built for artists you'll be able to start running ads like a pro in less than 10 minutes and jumpstart your music career;
Facebook/Instagram Ads Secrets
The strategies we use to find and attract raving fans with advanced advertising techniques no other artist is using;
The Fan Acquisition Journey
The 3 stages process you MUST understand to attract new fans every day. Find exactly WHERE your dream fans are HIDING online, so you can find them and pull them into your music.
SPECIAL BONUS: Full Campaign Walkthrough
A 3 videos series + eBook to show you how we've grown streams, sold merch, and got video views with a very low budget (we've actually done stuff, and you'll learn it all)
百度云下载地址: