Elisa Hom Varispeed v2.0 [Max for Live]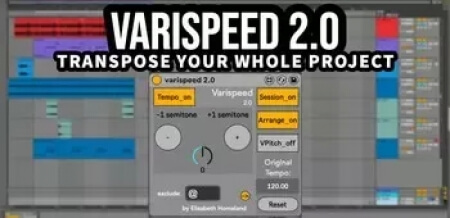 P2P | 23 December 2022 | 401.48 KB
Varispeed is a MaxforLive device that lets you use Ableton Live like an analog tape machine.
You can transpose the whole song (audio clips and midi tracks) in both directions up to -24/24 semitones while accurately changing the tempo too.
By that you gain the ability to record parts in other speed and pitch like back in the days.
Or you can check out your song in different keys,
and it's also good for practicing purposes, too.
Features:
- Put one instance of Varispeed on your master (or to any track basically) and transpose your whole song.
- Transposes both Audio and Midi Clips.
- Transpose up or down up to 24 semitones in both directions. - Works in both Session, and arrangement mode.
- Exclude any track you like by adding a key word or symbol to its name ( the default symbol is @ )
you can choose what word or symbol Varispeed should look out for.
- Transpose Midi information after it's left the clips. for individual drum rack pads, or sequencers. ( For detailed information see the VPitch section)
- You can turn off every processing circuit in the device for more efficiency, or for different usecases.
(If you know you don't use the Session View, or Arrangement View, or the separate Vpitch device, simply turn off this circuit, and you can disable the tempo changing circuit of the device too.)
WARNING:
- These are max for live devices so you're gonna need either Live suite, or live standard with MaxForLive
-Works with Live 11 only.
-Don't work with freezed tracks.
Installation :
you can put these devices into your user library, basically anywhere.
Default location of the User Library:
When you install Live for the first time, the User Library is created at this location:
Windows: \Users\[username]\Documents\Ableton\User Library Mac: Macintosh HD/Users/[username]/Music/Ableton/User Library
Please note that Live has to analyse your user library after you put your devices in there... It could take a while.
For the time being, you can just drag and drop these devices on your track from your user library. until Live analyses your folders.
百度云下载地址: