789TEN DubVision Progressive House Sessions V.4 [WAV, MiDi, Synth Presets, Ableton Live, TUTORiAL]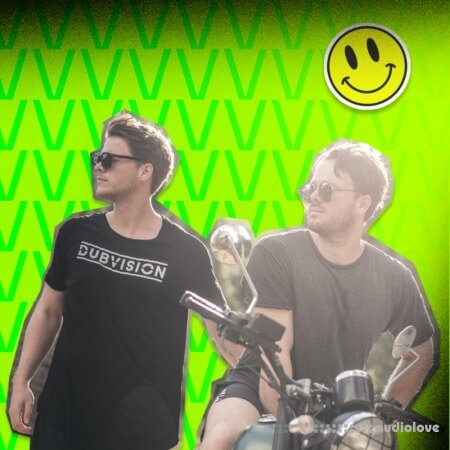 P2P | 14 September 2020 | 10.7 GB
No introduction needed.
After the success of V3, and the countless requests for a follow up, our favourite progressive house virtuoso's are back for V4.
For the second time in a row DubVision is letting out their Samples, Presets, Project Files, & Midi clips!
And of course… Tutorial.
This time we give you the Progessive House sound you've been asking for, packed with sounds from their nostalgic progressive hits like: Heart, Turn It Around, All By Myself, Rescue Me, Back To Life, Into The Light, Steal The Moon and all their amazing remixes for artists like Martin Garrix, Tritonal, Hardwell and many others.
"For us this was the perfect time to really give you guys an insight on our production where we start a real progressive house hit from scratch. Where we write the melody, we build the break and show you everything to finish the song." - DubVision
The producer pack is made up of 4 components and 3 additional bonuses.
This is on another level from anything DubVision has ever done before.
Tutorial: In this modular approach to the tutorial, Victor sat down in the studio and started working on an idea which quickly became a releasable DubVision single. It's amazing what can be accomplished in such a short time with the right sounds... All of which you get your hands on in this pack! They demonstrate how they play the piano to lay down their idea and work from there, arranging the break, building tension with their unique approach on making the buildup, build their lead stack layer by layer, making an intro and outro, how to keep things interesting and of course... how they do their mix and master.
Template Project File: Victor has made his own Ableton template project as a starting point for maximum efficiency when starting a new project. He also included this so you can follow along with him in the tutorial from start to finish, to make sure you're able to get the most out of this tutorial!
Ableton Project File: For a lot of you this will be the holy grail. DubVision is sharing their signature sound, with all samples & presets mixed and arranged. If you ever wanted to make Progressive House or have been inspired by DubVision, this is a must have. The pure quality of DubVision's projects and the talent that goes into their creation is on another level, and this project file is no exception. Included are 2 project file variations; VST (Windows & Mac) & AU (Mac only), this way the project file is optimized for every user.
BONUS Stem Master Project File: Those of you who already know how Victor approaches his Mix & Master, know that he loves to render everything out and start from scratch in a new project to mix and master it with audio only. We made sure that he included this in the pack so you can see and study the project alongside the tutorial. In V4, we're leaving nothing out.
Steve's Secret Midi Pack: To take things one step further, we sat down with Steve and brainstormed on how we can shine a light on his talent in this Producer Pack. We have come up with an incredibly valuable addition. Stephan has written 15 Chords progressions in the notable DubVision sound and included the midi for each one. He also included midi clips for some signature melodies to inspire you!
Sample Pack: The secret sauce… We finally got DubVision to go as far as to render out some of the samples from their hits like Heart, Turn It Around, and many more. This punchy sample pack is used in the tutorial by Victor, and is now available to be used in your own productions.
BONUS Presets: We made sure for the non Ableton users that we exported all of the presets used in the tutorial so you can still replicate everything that DubVision does during this tutorial and implement them in your own productions! The DubVision producer pack V4 is packed full of value for users on any DAW.
BONUS Ableton Racks:
- 789DV4-AMBER-chords: Fxpansion Amber (discontinued), Ableton EQ 8
- DV Guitar: Ableton 'Guitar And Bass' Live pack (free in-app download), NI Guitar Rig 5
- DV piano fx: Fab Filter Pro-Q 3, Ableton Echo, XLN Audio RC-20
- DV piano: Ableton 'Grand Piano' Live Pack (free in-app download), Ableton EQ 8, Ableton Reverb, Ableton Compressor
- DV Pluck 1: Vengeance VPS Avenger Version 1.6.0 Valhalla Vintage Verb, Ableton Echo
- DV Signature Riser: Lennar Digital Sylenth, Ableton EQ 8, Ableton Compressor, Ableton Reverb
- DV String 1: Ableton 'Strings Ensemble' Live Pack (free in-app download), Valhalla Vintage Verb, Ableton EQ 8
- Guitar Bass: Ableton 'Guitar And Bass' Live pack (free in-app download), NI Guitar Rig 5, Fab Filter Pro-Q 3
Template Project Plugins: Fab Filter Pro-Q 3, Lennar Digital Sylenth, NI Massive, VPS Avenger V 1.6.0, Ableton 'Guitar And Bass' Live pack (free in-app download), Ableton 'Grand Piano' Live Pack (free in-app download), XLN Audio Addictive keys, Fxpansion Amber (discontinued)
Pack Overview:
1. DubVision gives you their progressive template that has been in the making for 10 years. This template is their foundation for all their songs.
2. Ableton racks and synth presets for the OG DubVision progressive sound. This will give you a head start when starting a new song from scratch.
3. Follow along with Victor while he makes a song from scratch in the tutorial. Replicate him step by step and make the song in your own DAW.
4. Layering multiple cymbals along your lead to create more transient and punch.
5. Making the signature DubVision mid drop fills.
6. Victor shows you how to make the drop, arrangement and break,
7. Tips and tricks on how to glue together the intro and outro with the rest of the song.
8. Bouncing out the stems and mixing the song in a new project to get the best results.
9. How to visually balance the kick and bass using waveforms for maximum punch and clarity.
10. EQing leads to make them as smooth as possible.
11. Complete audio leveling demonstration (one of the most important and fundamental skills during your mixing process).
12. A live demonstration of the DubVision mastering rack. He will show you how and why he is using certain plugins and will take you step by step.
13. Get access to 100+ signature DubVision progressive house samples from DubVision releases.
14. Get access to the final projects files mixed and unmixed (both freezed and both MAC & Windows).
Take a quick look at the project file and the song. Everything here is editable and can be modified for your own productions.
Host DAW: Ableton Live
Main Plugins Used: Xfer OTT, Nicky Romero KickStart, Cableguys ShaperBox, FXpansion Amber (discontinued), Fab Filter Pro-Q 3, Fab Filter Pro-L 2, Fab Filter Pro-MB, Sylenth 1, Spire-1.1, Soundtoys Crystallizer, Echoboy, Echoboy Jr, Tube-Tech CL 18 MK II, VPS Avenger, Waves SSL Channel, ValhallaRoom, Valhalla Vintage Verb, Nexus, Addictive Keys by XLN Audio, RC-20 Retro Color, Guitar Rig 5 FX, Massive, TR5 One, PSP Vintagewarmer2, Transient Shaper, Sausage Fattener, SPAN by Voxengo, iZotope Ozone 6 Imager, LinEQ Lowband, Ableton 'Guitar And Bass' Live pack (free in-app download), Ableton 'Grand Piano' Live Pack (free in-app download).
Tutorial Run Time: 2hr 55m 06s
百度云下载地址: