UJAM Virtual Bassist ROWDY v2.1.1 [WiN, MacOSX]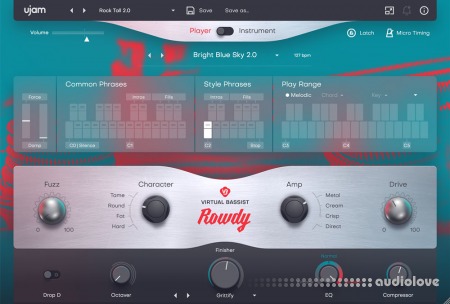 WiN: Team R2R | 27 September 2020 | 3.6 GB
MAC: MORiA | 03 March 2021 | AUi/AAX/VSTi | 3.67 GB
Introducing Virtual Bassist ROWDY – Your loud-mouthed, rebellious and high energy bassist with bite! ROWDY confidently delivers picked overdriven electric bass sounds suitable for a variety of styles, ranging from powerful punk to red-hot rock and modern metal. If your bass needs to cut through heavy drums and a wall of guitars, then ROWDY is the perfect solution.
Powerful & Roaring
Virtual Bassist ROWDY has two distinct modes – Player mode lets you quickly choose from one of the 40 styles and 450 phrases with your midi controller, seamlessly following in an intelligently musical way whatever key or chord is being played. Instrument mode is one for the keyboard wizards and opens up the entire ROWDY fretboard to be played like a traditional sampler, complete with dead notes, full stops and even slides.
Frustration-Free
Designed with the UJAM Instruments frustration-free philosophy, ROWDY's easy to use GUI and controls make it possible to achieve fantastic sounding and aggressive basslines in no time – no matter what your level of music production experience is.
Tone-Sculpting Controls
Perfect your performances and sound with Virtual Bassist ROWDY's powerful yet simple tone-sculpting controls. Choose between a DI signal and 3 separate hand-picked amps with separate dial-in controls for overdrive and fuzzy rudeness. The character knob can then give you instant access to many useful scuzzy sonic flavors before adding the cherry on top with an octaver and a simple EQ and dynamics section.
Let's Get Ready to Rumble
Virtual Bassist ROWDY – a loud-mouthed, rebellic sound and angry playing style. Which is exactly what you need if you want to be heard between heavy drums and guitar walls. It can purr, but it's built to roar. With a hand-selected, specially modified vintage bass guitar, hot amps, a fuzz box and even an octaver. Fight the Foo, heat the chili peppers – here comes ROWDY!
Listen Up!
ROWDY is definitely a rocker and could also do with taking a shower but we're too afraid to ask…
What's in There?
Powerful-yet-simple sound shaping options
40 styles and over 450 phrases
Play the bass from a MIDI controller
Adjustable Fuzz for that extra bite
AI articulation modeling
百度云下载地址: