Sonica Instruments KOTO 17 [KONTAKT]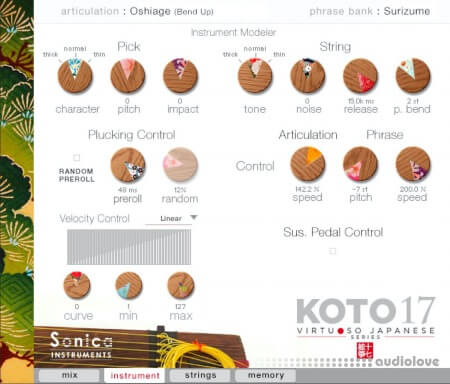 Team DECiBEL | 18 May 2021 | 13.95 GB
KOTO 17, the seventh title in the Virtuoso Japanese Series, brings the sounds of the 17-string bass koto, an indispensable part of modern Japanese music, to music creators everywhere.
Coming three years after the development of KOTO 13, KOTO 17 benefits from advanced features that coax new tonal qualities from the library.
Naturally, KOTO 17 can be used as a solo instrument. But it complements the 13-string koto and shakuhachi extraordinarily well, making it an essential component in both classical and contemporary Japanese music circles. And when paired with other titles from the Virtuoso Japanese Series, such as KOTO 13, KOTO 20, or Shakuhachi, KOTO 17 can complete an incredibly powerful ensemble.
Main Features
– Peerless reproduction of every performance nuance from the 17-string koto thanks to meticulous recording techniques and innovative programming
– Exclusive Performance mode maps the 17 strings to adjacent white keys for easy performance of real koto glissandos and phrases
– 20 key-switch-selectable articulations fundamental to the 17-string koto
– Sustain pedal control for natural continuous-picking phrasing
– Newly developed Instrument Modeler reproduces sound variations due to different fingerpicks and strings
– Character selector lets you choose from three fingerpick thicknesses
– String tone selector offers three string tones: Thick, Normal, and Thin
– Includes three banks of quintessential koto phrases, all key-switch controllable
– Plucking control function for full mastery over subtle, natural sounding picked notes
– String editor enables independent tuning adjustments for all 17 strings
– In addition to the 10 preset scales, the User Scale mode lets you create original scales
– All samples recorded in 24-bit / 96 kHz high resolution to capture every tonal detail
– Create your own mixes with the multi-microphone samples and a dedicated mixer with individual controls for Direct, Overhead, Room, and Stereo Mix channels
– Compatible with Kontakt Player / Kontakt Full Ver. 5.7.3 or newer
– NKS ready
Requirements
– Data size: 14.97 GB NCW format (equivalent to 33.26 GB in wav format)
– Native Instruments Kontakt 5.7.3 or newer
– Kontakt Player compatible
– NKS ready
System
– Mac OS X 10.10 or newer
– Windows 7, Windows 8, or Windows 10
– Intel Core 2 Duo or AMD Athlon 64 X2
– A minimum of 4 GB of RAM (16 GB is recommended) is needed on both Mac and Windows systems.
百度云下载地址: