Epic Stock Media Infiltration Thriller 16/24Bit [WAV]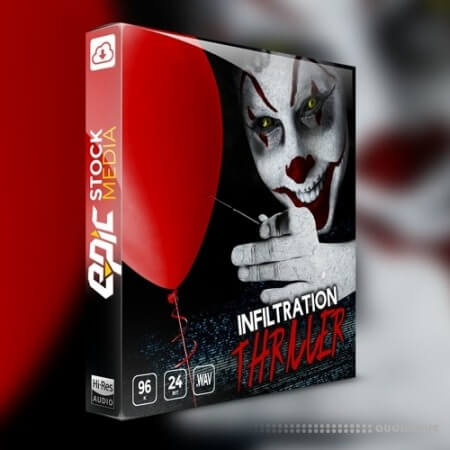 Team DECiBEL | 03 March 2021 | 16bit: 1.21 GB | 24bit: 4.34 GB
'Infiltration Thriller' by Epic Stock Media is a sound effects and vox pack filled to the brim with loops perfect for psychological thriller movies, games, trailers and more. This pack gives you the power to unlock pure Cinematic audio genius with over 500 studio-ready sound effects. It's disturbing, creepy, suspense and thrill-inducing, and inspired by Stephen King's 'It'.
You'll discover soundscapes, anxiety-filled hits, impacts, attention grabbers, spine-chilling suspense elements, scare cues, designed string section risers, infinite risers, Shepard tones, transitions, whooshes, drones, atmospheres, signals to help you create compelling mind-bending tension, high emotion promos, trailers, game scenes, and unnerving audio experiences.
If you are wondering what epic Cinematic suspense sounds like, this is it. Infiltrate your next thriller project with more than 500 head-turning and ear-tingling sound effects.
Render some of the most disturbing sound effects into the psyche of your audience (victims). Epic string risers, glissandos, and orchestral string section cues help you set the stage for an authentic big budget production sound, without ever recording a note. Tonal cues with double bass and arco string section drones take your scenes to the next level of movie trailer sound design.
Imagine you're in the comfort and safety of your own production studio so no worries, right? As long as you pay no attention to those eerie shapeshifting sounds and the feeling that there's something lurking around the corner, you'll be fine. It's probably just the cat…or is it?
Product Details:
– 518 Mixed And Mastered Audio Files
– Over 3.5 Hours Of Sound
– Includes Multiple Formats Of Entire Library: 96kHz/24-Bit, 44.1kHz/16-Bit, And Game-Ready MP3
– Includes Soundminer Metadata
– 76 Atmospheres: Long, Mood Setting, Startling, Tension, and Suspense Soundscapes
– 11 Booms: Low, Deep, Sinister
– 32 Drones: Underground Rumble, Electric Disturb, Iron Rain, Eerie, Liquefied Signals & More
– 63 Hits, Discharges, Strikes, Slams, Mangled Violins, Jump Scares, Thrills & More
– 61 Impacts: Bowed Metal, Violins, Distorted Shock, Heavy Drop, Explosive, Hammer Stroke & More
– 61 Risers And Buildups: All Designed And Tension-Filled Sounds
– 65 Shepard Tones: Ascending, Descending, Infinite Build Ups, Ghostly, Mind-Bending, Psycho & More
– 16 Tonal Musical Elements – Tortured Strings, Eerie Bell Frequencies, Anxious Bass Pluck Patterns
– 76 Transitions Long: Slow and Long, Designed, Bowed Whooshes, Distorted Air, Metal Harmonics, Harsh and Airy Movement, Haunted Audio Color, Sinister Water-phones & More
– 58 Transitions Short: Quick Whooshes, Designed, Bowed China Reveal, Dark Movement, Electronic Buzz Pass-bys and Screams, Violin Surgery Audio Motion, Screeches & More
百度云下载地址: